Name: Piper
Alias: "Wheelchair Psycho", "Lorena Bobbitt on Wheels"
Age: 16
D.O.B.: September 20
Hometown: La Jolla, California
Likes: Roadkill, Diesel Fuel, Snow Tires
Dislikes: Having to clean blood off of her tires
Hobby: Wheelchair Road Rage, Mass Destruction
Hero: Larry Flynt, Beavis and Butthead
Motto: "BACK OFF!! I KNOW HOW TO KILL WITH THIS THING!!!!!"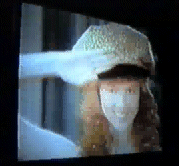 Piper became Saban Mercury after getting put in jail for mowing down a girl scout in her wheelchair. She loves to run over small animals and going to the mall to run down teenyboppers. Piper has been in trouble with the law many times, and is the first person to ever get in trouble for peeling out of the school parking lot and running over a pedestrian with a wheelchair.